SMEs and Digital Transformation
17/04/2023 - 3 min. de lecture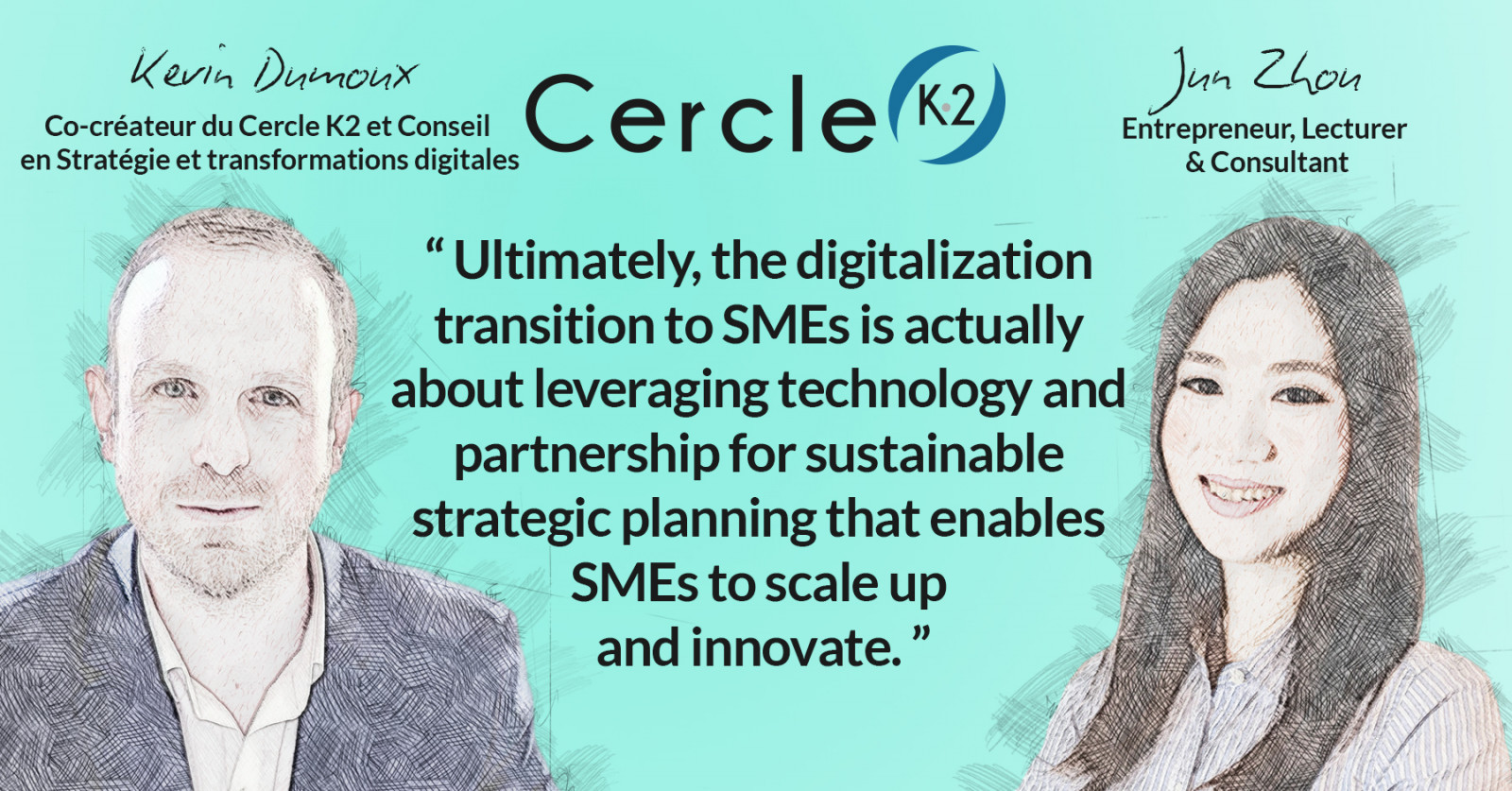 Le Cercle K2 n'entend donner ni approbation ni improbation aux opinions émises dans les publications (écrites et vidéos) qui restent propres à leur auteur.
Kevin Dumoux Co-founder of Cercle K2 and Managing Director of a consulting firm, specialized in Digital transformations. Jun Zhou is Lecturer & Consultant, specialized in SME and chinese social media.
---
Read the French version / Lire la version française
---
Digitalization has continued to accelerate in recent years, affecting all sectors and companies of all sizes, though at a varied speed. It offers a wide range of opportunities for businesses to improve performance, inspire innovations, enhance productivity, and promote scale-up and business sustainability. Applying digital technology solutions such as CRM, big data, and AI can improve a firm's labor productivity by approximately 23% and its total factor productivity by around 17 % [1]. To achieve lower operational costs, high productivity, and business intelligence efficiency, large companies are actively engaging in digitalization through various digital technology, however, small and medium size of companies (SMEs) are still lagging in the transition and they tend to digitalize functions such as general administration and marketing operations first [2].
Despite the tremendous benefits, France ranked only 20th among EU countries with its integration of digital technology in business, and only 47 % of French SMEs digitalized, compared to 55% of EU SMEs average [3]. The digitalization gap, at the company level, imposes impacts on productivity, scaling up, innovation, and growth, and at the market level, triggers concern regarding technology lock-ins, data protection, and distortions in the competition [2].
To keep up with the transition, French SMEs are required to take a closer look at digitalization through both a strategic lens and an operational lens.
Strategic Lens
Adopting digital solutions to SMEs is more than merely applying different digital services, it concerns the company's strategy. Traditional SMEs are often uncertain regarding their choice of digital business strategy, and this phenomenon has been reflected in the fact that many SMEs are found more often to have digital solutions from various vendors for different functions. They might use one system developed for ERP, one for cloud service, and another one for CRM, but these systems are difficult to connect together as they are not from the same service providers or develop over various periods of time. For employees, recording the same data in different systems for different usages can't improve their productivity but duplicate the workload. For managers, too many systems lead to less clarity in business performance evaluation, and make it hard to identify business opportunities. For SMEs, these service providers individually can't help SMEs to develop a digital strategy that considers the firm as a whole and allows SMEs to optimize the overall business process to improve staff productivity and operation efficiency, moreover, to foresee future innovation opportunities.
A critical mindset for SMEs to digitalize is to realize that the strategy doesn't come before the digital solutions. Digital solutions are one of the key resources to evaluate when developing a company strategy. Unlike larger companies, SMEs usually don't have the budget and resources to set up an in-house digital team to manage all the digital activities. Applying separate digital solutions from different vendors can offer flexibility when the needs and goals of the long term are less visible. For startups, it is a good option to consider when the business idea is still under testing and pivoting. However, SMEs usually require more stability than flexibility compared to startups, but also need enough technical space to allow the business to grow. For SMEs to achieve efficiency, sustainability, and scale-up, forming a trustworthy and solid long-term partnership is more feasible and beneficial. A strong partnership with a digital solution provider who understands SMEs' specific needs can offer their consulting advice and help SMEs to formulate and transform the strategy into tailor-made solutions to support SMEs' business to the best extent.
Operational Lens
Before developing and implementing their digital strategy, it is crucial for SMEs to clarify their business needs and goals in both short and long term. One of the most common mistakes businesses make is not having clear goals for their digital strategy. Identifying the real needs and pain points of the business operation and development will help SMEs to apply the most suitable digital solutions under a clear vision in different timelines. Inevitably, there are conflicts in resource allocation between short-term and long-term goals, and managers tend to focus on the immediate ROI and underestimate the costs of switching or upgrading the digital solutions to match their adjustment of the focus from short-term to long-term.
It is equally important for SMEs to evaluate all digital opportunities and their costs and benefits. Digitalization is rather multi-faceted, and involves applying a broad range of technologies for different purposes (OECD, 2021). Different digital solutions offer different digital opportunities, such as leveraging big data and analytics for business intelligence, implementing cloud-based services for fast access, linking social media to e-commerce channels to boost sales, and automating the process to improve productivity. SMEs are required to evaluate these opportunities and prioritize them based on their needs, goals, and budget forecast in order to develop a digital strategy that does not overlook the potential opportunities.
Furthermore, SMEs need to develop a digital strategy roadmap for businesses to be sustainable. It is essential for SMEs to outline their strategic moves, timeline, required digital solutions, and expected outcomes, more importantly, to validate the strategy roadmap to align with their business model. SMEs are required to understand the challenge to allocate all resources. One primary challenge is regarding the efficiency of data collection and connections between different solutions, in order to maximize the usage of data. Another one is the collaboration internally and externally. Knowing that a digital strategy involves many different departments within a company and implementation can be more challenging than expected, it is crucial for SMEs to involve managers from different functions to validate the roadmap and ensure collaboration and communication between departments during the process. Externally, SMEs need to actively communicate with the digital solution partner to leverage their expertise effectively to ensure the development and implementation smoothly.
Through these two lenses, SMEs can reassess their current digitalization position and better plan for the next move. Ultimately, the digitalization transition to SMEs is actually about leveraging technology and partnership for sustainable strategic planning that enables SMEs to scale up and innovate.
---
[1] Cette, Gilbert, Nevoux, Sandra and Py, Loriane. 2020. The impact of ICTs and digitalization on productivity and labor share: Evidence from French firms. s.l. : Banque de France, 2020.
[2] OECD. 2021. The Digital Transformation of SMEs. OECD Studies on SMEs and Entrepreneurship. 2021.
[3] European Commission. 2022. Digital Economy and Society Index (DESI) 2022 France. s.l. : European Commission, 2022.
17/04/2023